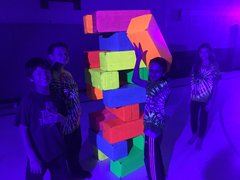 Glow Games Party Package
$375.00
Dimensions: N/A
Set Up Area: 40ft x 70 ft (Standard Elementary Gym)
Outlets: 1 x 20 AMP within 75'
Please call to reserve this item
Duration: 30 minute set up, 60 minute party, 30 minute tear down.
Participants: 20 participants, 21-30 participants adds $50, maximum 30 participants.
Staff: 2 PGG staff included with your party.
Equipment: 2 x Black Light Tripods to make your party glow.
Games: Choose 4 interactive games from the list. Full list of games Click Here.
A maximum of 2 inflatables can be featured in this package. If you are looking to have more inflatables at your party, check out our Inflatable Party Package.
Additional games can be added for a charge of $75, which will increase you party by 15 minutes.
Music: $50 add PA system and MP3 player for music.
Select a total of 4 from:

Games Category
Floor Hockey - Click Here
Butt Bouncers - Click Here
Potato Sack Race - Click Here
Giant Egg Carry - Click Here
Hula Hoops - Click Here
Tug of War - Click Here
Musical Chairs - Click Here
GaGa Pit - Click Here
Dodgeball - Click Here
Capture the Flag - Click Here
Wacky Walkers - Click Here
4-Square - Click Here
Water Balloon Toss (May-September, outside only) - Click Here
Bag Toss - Click Here
Topple Tubes - Click Here
Giant JENGA - Click Here
Giant Bowling - Click Here
Inflatables Category (maximum 2 from inflatables for this package)
*Premium inflatable, add $50/item.
GaGa Pit - Click Here
Giant Twister - Click Here
Giant Basketball Hoop - Click Here
Wacky Hoops Glow - Click Here
Kids Combo - Click Here
GaGa Pit Glow - Click Here
*Bounce Castle - Click Here
*9-Square in the Air Glow - Click Here
*Climbing Wall Slide - Click Here