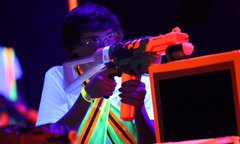 Glow NERF Party Package
$375.00
Dimensions: N/A
Set Up Area: 40ft x 70 ft (Standard Elementary Gym)
Outlets: 1 x 20 AMP within 75'
Please call to reserve this item
Duration:
30 minute set up, 60 minute party, 30 minute tear down.
Participants:
20 participants, 21-30 participants adds $100, maximum 30 participants.
Staff:
2 PGG staff included with your party.
Equipment:
2 x Black Light Tripods to make your party glow, 8x barriers to hide behind, 20 blasters, 20 goggles, extra darts.
Upgrade:
Additional participant equipment can be added for a charge of $10/participants. Additional barriers can be added for $15/pair.
Music: $50 add PA system and MP3 player for music.
Nerf Game Types:
Team Elimination

Capture the Flag

Protect the President

Defend the Alamo

South Western Shoot Out